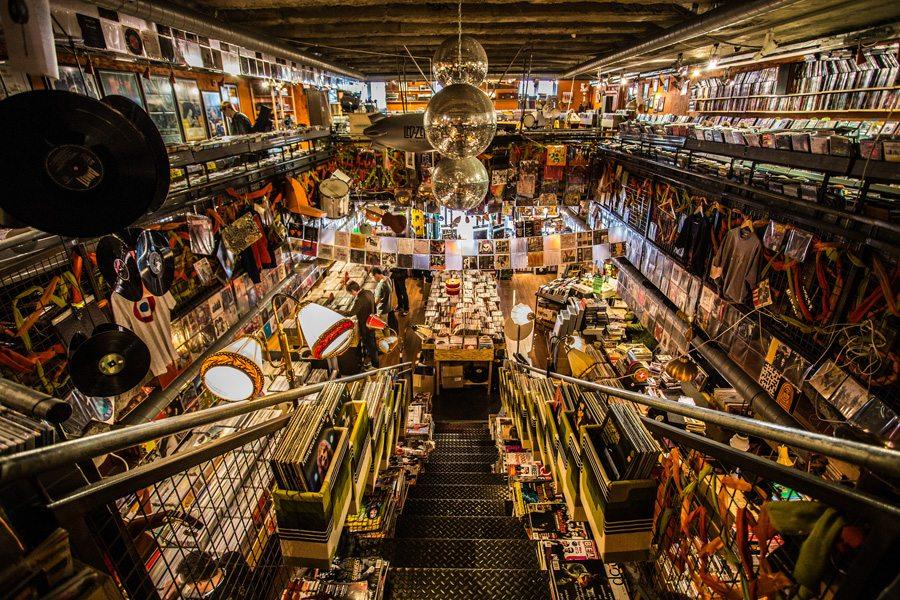 A Guide to Buying Used Records
One of the joys of vinyl records is the thrill of the hunt. For vintage releases, early pressings, and people looking to grow their collection without breaking the bank, you have to shop pre-owned records. That means time spent searching through used bins or shopping online - both of which can lead to the dreaded feeling of discovering a skip or scratch when first playing a record at home. To prevent that from happening, we've put together a guide on what to look for when buying used, what to avoid, and basic etiquette to save you time, money, and heartache.
---
Shopping In Person
Whether you're record hunting at a store, a garage sale, a flea market, or from someone's personal collection, the #1 rule is to take the time to inspect the most important element: the record itself.
Hold the record flat in front of your eyes and look for warps or bends. Be sure and rotate the record 90° so you get the full picture.
Examine the record for scratches. Find the brightest and best light, which may be natural light from a window (or right outside the door if the clerk lets you!). If you see scratches, don't despair - not all scratches are audible on playback. Diagonal scratches are the worst offenders, as they can cause skips and locked loops. Don't be afraid to (gently) feel for defects with your fingertips. Sometimes scuffs and scratches look much worse than they actually are, and using your finger as a test-stylus can be a better judge of what your turntable with run into when playing the record.
Remember that you can clean dust and dirt from records - they should not automatically disqualify an otherwise great find!
Take note of the luster and sheen of the vinyl. If it looks shiny and new, you may have stumbled onto a used record that's only been played a few times. These just-like-new records may also have tiny paper scraps from the production process, an excellent indicator of newness!
Jacket quality is almost a quest in and of itself. While the condition of a jacket does not always dictate the state of the record inside, it can be a general indicator of the care taken to preserve the record. A missing or damaged inner sleeve means the record likely had one less layer of protection for a time before you found it. Mold and water or sun damage on the jacket shows that the record was not properly stored, and may have warping issues. Extensive side splits on the jacket or sleeve means the record has probably been taken out and put back many times -  and therefore, probably played many times, too. These tears can be repaired with acid-free tape, but they should tell you to be extra cautious when inspecting the vinyl.
The only way to really test a record is to listen to it, so make use of the listening stations found at most record stores! They're there for a reason.
---
Shopping Online
Even if your favorite music is a European psych rock label that only distributed out of a small French village from 1973-1976, chances are you can find your vinyl wishlist online. You lose the ability to inspect visually before purchase, but many online shopping platforms offer high buyer protections. Be sure to read up on those policies and get as much information as you can about the record you want to buy before paying. If it's missing any important info, ask the seller. If the seller is unable or unwilling to help with your questions, you may not want to be buying from them in the first place.
Sterling Clinton Hundley
Many online sellers use the Goldmine Grading Standard, explained in-depth HERE. This system attempts to give you a simple letter grade to determine the condition of the item in question.
[M]: Mint = New, likely still sealed.
[NM]: Near Mint = No noticeable defects or problems, practically new
[VG+]: Very Good Plus = A very well-maintained record that shows slight signs of use. Defects have virtually no impact on listening experience.
[VG]: Very Good = Might have some audible surface noise during quiet sections and small scratches.
[G+, G]: Good Plus, Good = Record plays all the way through without skipping, but has noticeable surface noise and/or scratches.
[P, F]: Poor, Fair = Don't buy these.
Websites like Discogs are incredibly useful for gauging price ranges for a record in various conditions, down to the specific repress or color variant.  It's also a great place to buy and sell records. You can upload your collection and easily get a sense of what it's worth (and, of course, to show off).
If you're buying from an online store or individual seller, look at the rest of their collection before finalizing the purchase in case you can add more records from your wishlist and save on shipping. Smaller resellers may be willing to give you a discount if you're buying several records at once.